Message from the Chairman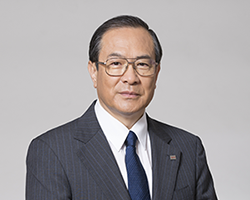 Toshiba International Foundation was established in 1989 with the singular mission of promoting international understanding of Japan. For over 30 years, through our own programs and support for a wide range of initiatives and projects, we have taken a broad view of our commission and encouraged exploration not only of Japan's economy and technology, but also its history, culture and arts, and social institutions.
The last three decades, especially recent years, have seen far-reaching global changes. In politics and diplomacy, there is a major shift of momentum from globalization to isolationism. Alongside advances in digitization, we see growing concerns about cyber-security. We must also contend with the diverse social issues caused by rising populations and urbanization, and with increasing numbers of major natural disasters, many apparently the result of climate change. This worldwide agenda involves us all, and Japan must now revisit its core values and what it can share with the world, and rethink the role it has to play in global society.
Of course, we also continue to confront one more immense issue, the worldwide assault of the coronavirus. The shockwaves it has sent through global society since the start of the year have left us facing unprecedented challenges in how we live and how we do business. International exchanges, the basis of the foundation's work, are no exception.
Bringing people together for symposia and workshops has encountered a huge crisis of survival, and business and academic communities are expediting efforts to remodel them by using broadband networks and advanced digital tools to connect people on-line. A similar shift to the virtual environment can also be seen in exhibitions. The arts and creative projects, joint research, education, and human resources development projects, must all identify means to reap results that compare with previous times, in the face of many constraints. I have the greatest respect for the efforts by everybody involved in those activities. At Toshiba International Foundation, we too will continue to make our very best efforts to carry out our key mission.
As TIFO enters its fourth decade, I sincerely ask for your continued support for our endeavors, and for your redoubled advice and cooperation.
Chairman
Masashi Muromachi