Message from the Chairman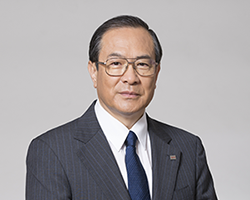 Since its founding in1989, Toshiba International Foundation (TIFO) has promoted understanding of Japan. Our diverse activities include support for Japanese studies and research by some of the world's leading universities, research institutions and museums; symposia conducted by international think-tanks; and programs to support development of next-generation human resources that can be a bridge between Japan and the world.
Our world faces testing issues that transcend the nation state and international borders: economic globalization; new movements that challenge traditional frameworks of thinking and the world order; pressing matters that include climate change, large-scale natural disasters and urban population growth. Solutions must be found in collaborations among people from different political, economic and cultural backgrounds based on a spirit of respect and understanding—if the global community is to secure peaceful and sustainable development.
As 2020 and the Olympics and Paralympics draw near, Japan has to re-invent itself and find a long-term role to play. There are also values it must preserve and carry forward into the future, including its cultural heritage, and share more widely with the global community. At TIFO, we must constantly ask ourselves what we can do as a foundation grounded in the private sector. We want to clarify this and promote activities through active dialogues with researchers and specialists outside Japan, and thus contribute to the development of global society.
Our essential asset is the extensive network of researchers and specialists that we have formed over the last 28 years, and the wisdom and expertise they share with us. In coming years, we want to continue to expand this network and to take advantage of the insights gained in this way to accomplish our long-term mission.
We will strive to live up to the expectations everyone has of us, and continue to do our best.
Thank you very much for your attention.
Chairman
Masashi Muromachi