Message from the Chairman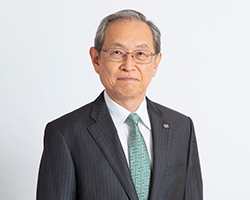 Toshiba International Foundation has the singular mission of promoting international understanding of Japan. For over 30 years now, since 1989, we have taken a broad view of our commission. Through our own programs and support for a wide range of initiatives and projects, we have encouraged exploration not only of Japan's economy and technology, but also its history, culture and arts, and social institutions.
The far-reaching global changes of the last three decades have impacted on all of us, individuals and countries alike. Keenly aware of the flow of world history, civilization and culture over the ages, we continue to ask ourselves what the Foundation can offer the world, now and for the future, and repeatedly come back to the role of identifying and reconsidering the core values that Japan needs to preserve, and to share with the world.
The pandemic has sent shockwaves through the world that still echo today, and brought immense changes to the ways we live and do business. This forced reevaluation of traditional ways of thinking and doing things has not made an exception for international exchanges, the basis of the foundation's work.
The organization of symposia and workshops, meetings of all kinds, has faced an existential challenge. Business and academia have responded by using networks and advanced digital tools to build new models that connect people on-line, or in a hybrid of the real and virtual. We have seen exhibitions start to employ metaverse technologies to provide their audiences with new experiences. Even with all this, the arts and creative programs, joint research, education, and human resources projects have all faced immense constraints, forcing everybody involved to channel tremendous energy into preserving their initiatives.
Though approaches may vary from one project to another, I think what matters most remains clear: how can we best foster mutual understanding and trust between people from different cultures and social backgrounds, and contribute to the creation of a prosperous society, based on respect for diversity? I have the greatest respect for the efforts of everybody involved in working for this.
All of us at Toshiba International Foundation will bring a flexible approach to our continued support for people working for improved international understanding, and do our utmost to contribute to the creation of the new era.
I sincerely ask for your continued support for our endeavors.
Satoshi Tsunakawa
Chairman
Toshiba International Foundation