Message from the Chairman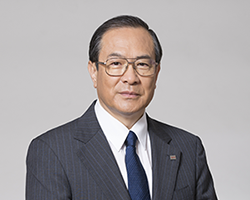 Thanks to the support of the many organizations we work with, thanks to the trust of researchers and specialists worldwide, and thanks to the understanding of our supporters and friends everywhere, Toshiba International Foundation is celebrating its 30th anniversary.
I am very happy to have this opportunity to extend my deepest thanks and appreciation to everyone who has helped us to reach this milestone.
The foundation came into being in 1989, the year when the Berlin Wall fell and the world began to change rapidly. In Japan, an increasingly important presence in the global economy throughout the 1980s, there was a strong feeling that the world had a limited view of our country, and that we needed to provide a more holistic perspective?not only of our technology and economic achievements, but also the depth of the culture and the unique social institutions. Thus was TIFO established, with the mission of "enhancing understanding of Japan."
It is impossible to enumerate the immense changes of the last 30 years. Our world is increasingly multi-polar, and in some countries we now see moves away from globalization toward isolationism. Tremendous advances in digitization have brought many benefits, but also increasing concern about cyber-security. We must also contend with growing populations and urbanization, an increase in major natural disasters, and the looming challenge of climate change. Surely it is now more important than ever that people with different political, economic and cultural backgrounds try to respect and understand each other, and to work with each other.
As this anniversary approached, we gave renewed thought to how we can best fulfill our mission of "enhancing understanding of Japan." After some reflection we have re-confirmed the basic premises that guide our activities, and condensed them into our "3Cs."
First is "Connect," to value, promote and broaden the scope of our global network with institutions engaged in Japan studies, opinion leaders, and people who know and appreciate Japan.
Second is "Cultivate," which is about encouraging and supporting the successive generations of scholars and specialists who will contribute to the expansion of our global network.
Third is "Communicate," so that the world knows more about Japan. We must convey the inherent beauty of its traditions, how they survive alongside cutting-edge trends, and how this co-existence and the resultant synergies will create a new Japan.
These three Cs are guiding principles for all of our future activities. Through our operations, we will fulfill TIFO's mission and contribute to the creation of a new Japanese society.
As 2020 and the Olympics and Paralympics draw near, Japan has to re-invent itself and find a long-term role to play. There are also values it must preserve and carry forward, and share more widely with the global community, including its cultural heritage. At TIFO, we must constantly ask ourselves what we can do as a private sector foundation. We want to clarify this and promote activities through active dialogues with researchers and specialists outside Japan.
Moving on from the milestone of 30, we will continue to strive to do our best and to meet all expectations. I sincerely ask you to support our endeavors with your redoubled advice and cooperation.
Chairman
Masashi Muromachi