Toshiba Youth Club Asia Vol. 6 Report
Asia
Human Resources Development
Toshiba Youth Club Asia (TYCA), a TIFO program to foster next-generation leaders of Asia, deepens mutual understanding between young people—the future—from Japan and ASEAN countries. Over a week of challenging and stimulating activities, it encourages participants to think about how to realize a sustainable future, from a global perspective. The Youth Club met for the sixth time in as many years for the week from December 22 to 29, 2019.
Fourteen students participated in TYCA Vol. 6: two each from Indonesia, Singapore, Thailand, Malaysia and Brunei, along with six students from Japan. In addition to the TYCA staff, support was provided by advisors, one from each ASEAN countries, and three Japanese teachers. There were also a lot of guest speakers and experts on hand.
TYCA took place at the National Olympics Memorial Youth Center in central Tokyo. Working in four multinational groups, T, Y, C and A, the students were tasked with developing a "Vision of Asia toward 2040," and handling a number of activities on the way to making a final presentation. Using the framework provided by the UN's Sustainability Development Goals (SDGs), the teams looked at Asian and global social issues, and how to solve them.
Day Two
After settling in and orientation on the first day, the students started off the day two by explaining why they were participating in TYCA and social issues that interested them. Then it was time to form groups and to get to know each other better.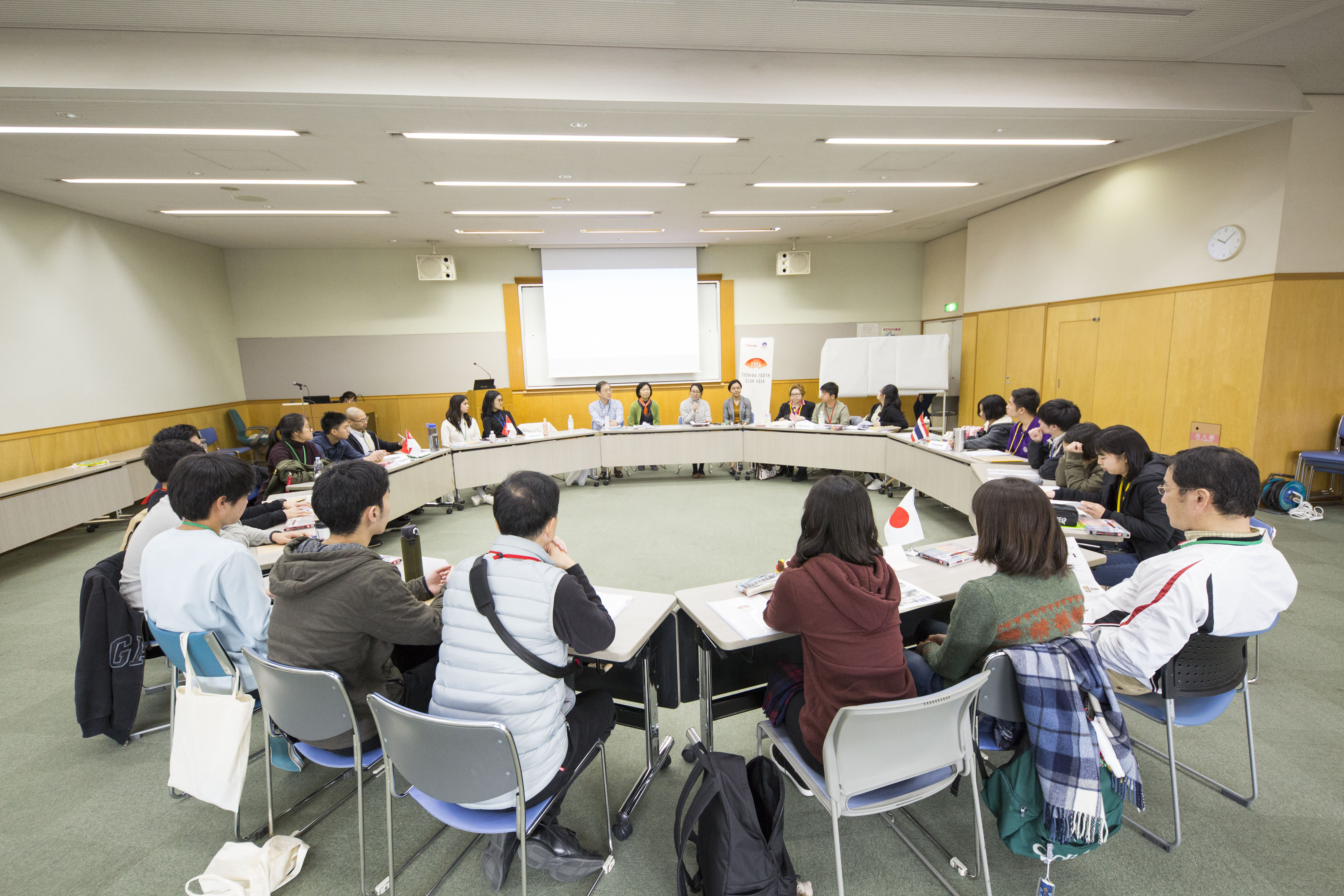 Sharing social issues in each country
After this, the whirlwind began, a series of activities stretching through to day four…
The afternoon was given over to a lecture and workshop with Tomoko Hoshino, Deputy Representative Director of the Environmental Partnership Council on the SDGs—what they are, and the global challenges they address. In the evening, senior staff from TIFO explained the importance of having a vision for social change, using case studies from around the world to understand why.
Day Three
Professor Junko Edahiro from the Graduate School of Leadership and Innovation at Shizenkan University got the ball rolling with a talk on the core concept of sustainability, and introduced tools for thinking about how to achieve it, including energy shift, backcasting, and systems thinking.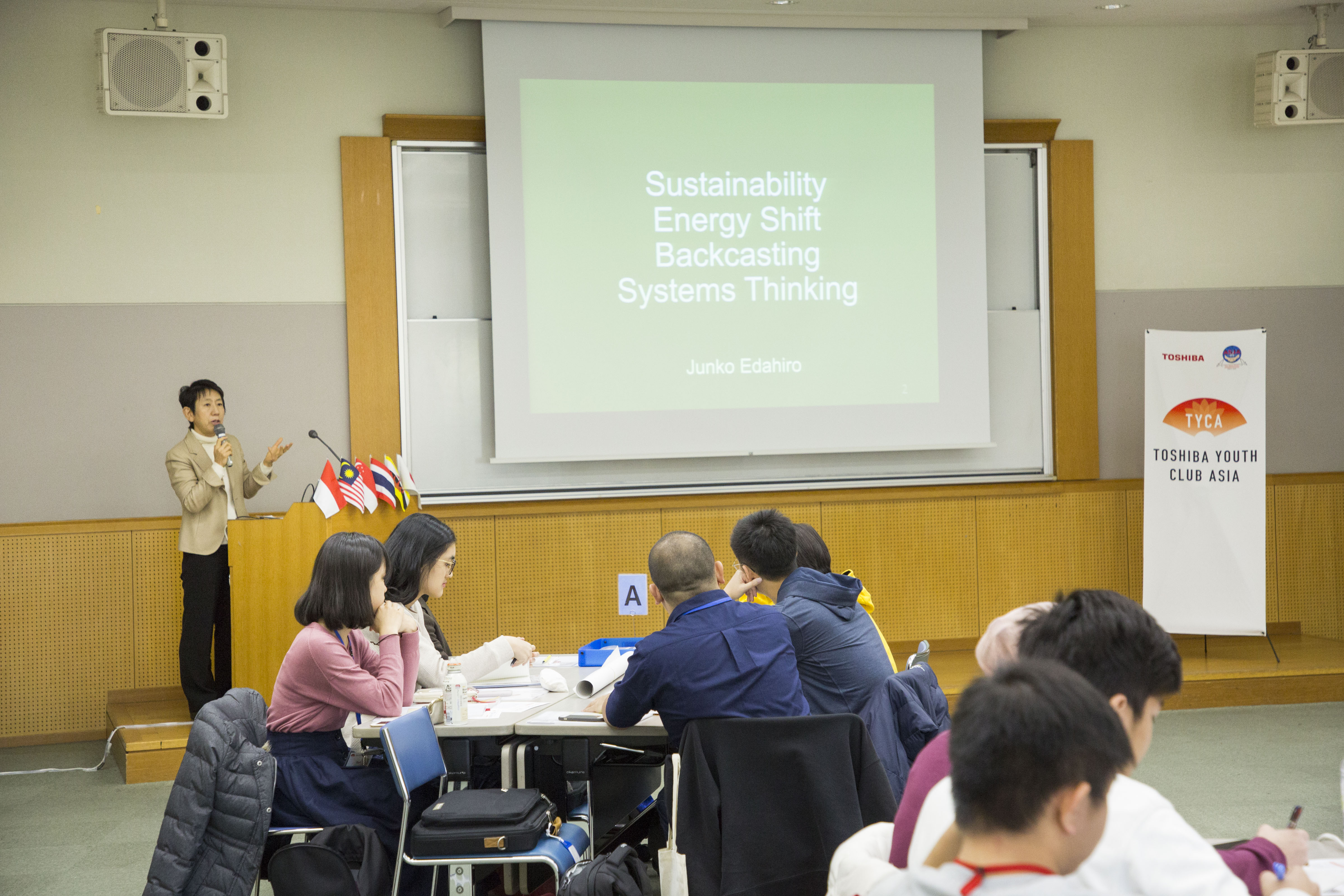 Prof. Edahiro sustains the students' interest
In the afternoon, Dr. Naoki Ishibashi from Komazawa University spoke on Technology & Social Innovation. He started with technologies invented during the Industrial Revolution, showed how they were connected to today, and how innovation happens. The Clubbers then got a chance to see the fruits of innovation for themselves, during visit to Toshiba Science Museum. Alongside the latest technologies, they saw a wide range of world- and Japan-first products, and a demonstration of a wind-up doll made over 150 years ago by Hisashige Tanaka, one of Toshiba's two founders. They were also introduced to the relationship between technology and the SDGs.
Day Four
One of our modern plagues is pollution, and Dr. Satoquo Seino of Kyushu University explained just why plastic marine pollution is among the most important issues facing modern society, in terms of impact on the ecosystem. Visuals showing how the Asian countries are united by ocean currents underlined the importance of tackling issues from a broad regional perspective.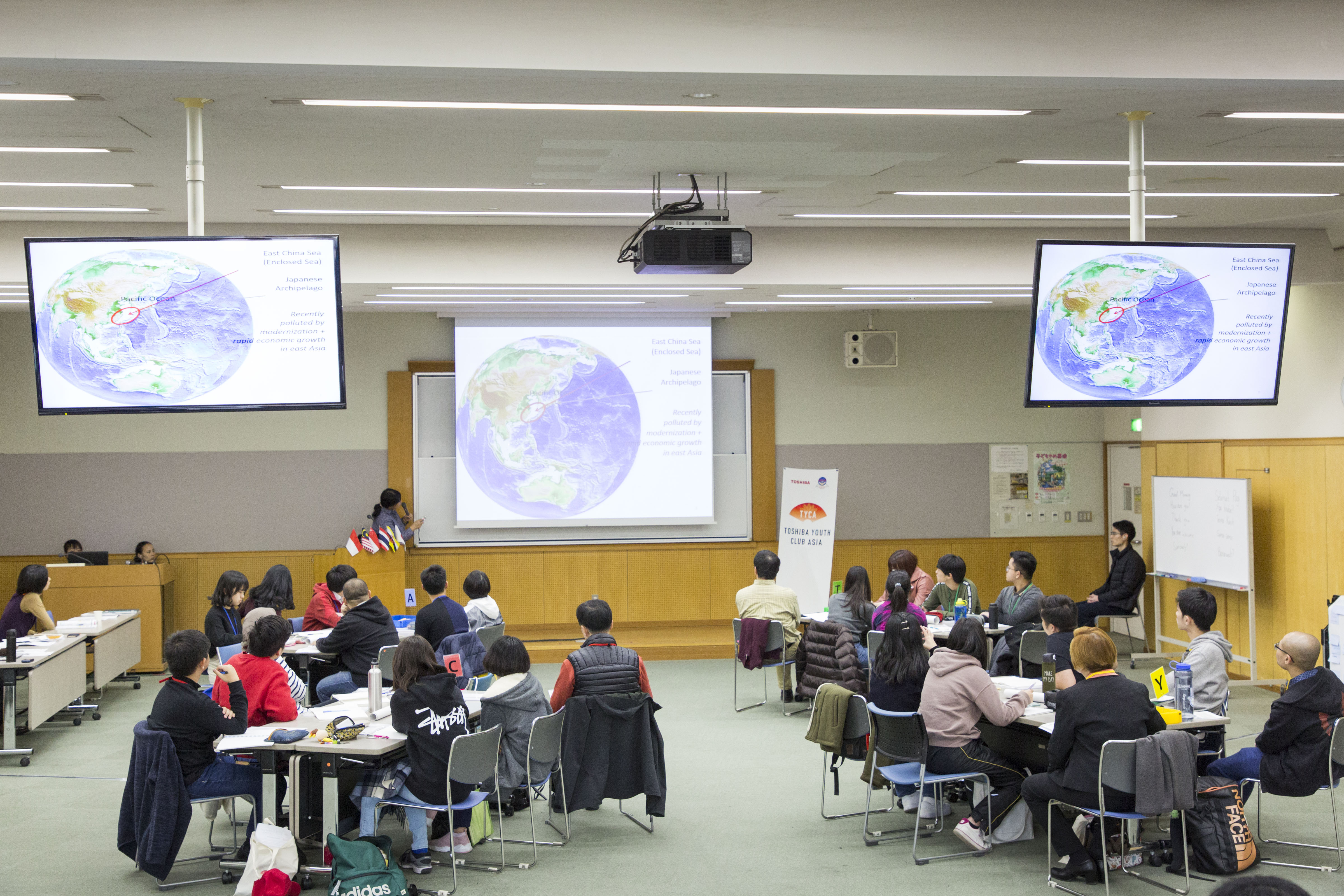 Hearing from Associate Professor Seino
The afternoon was about methodology, a workshop on using the Logy & Nomy educational game and tools to handle environmental issues and the economy—and to work toward achieving an ideal society. A case of realizing a better future through fun.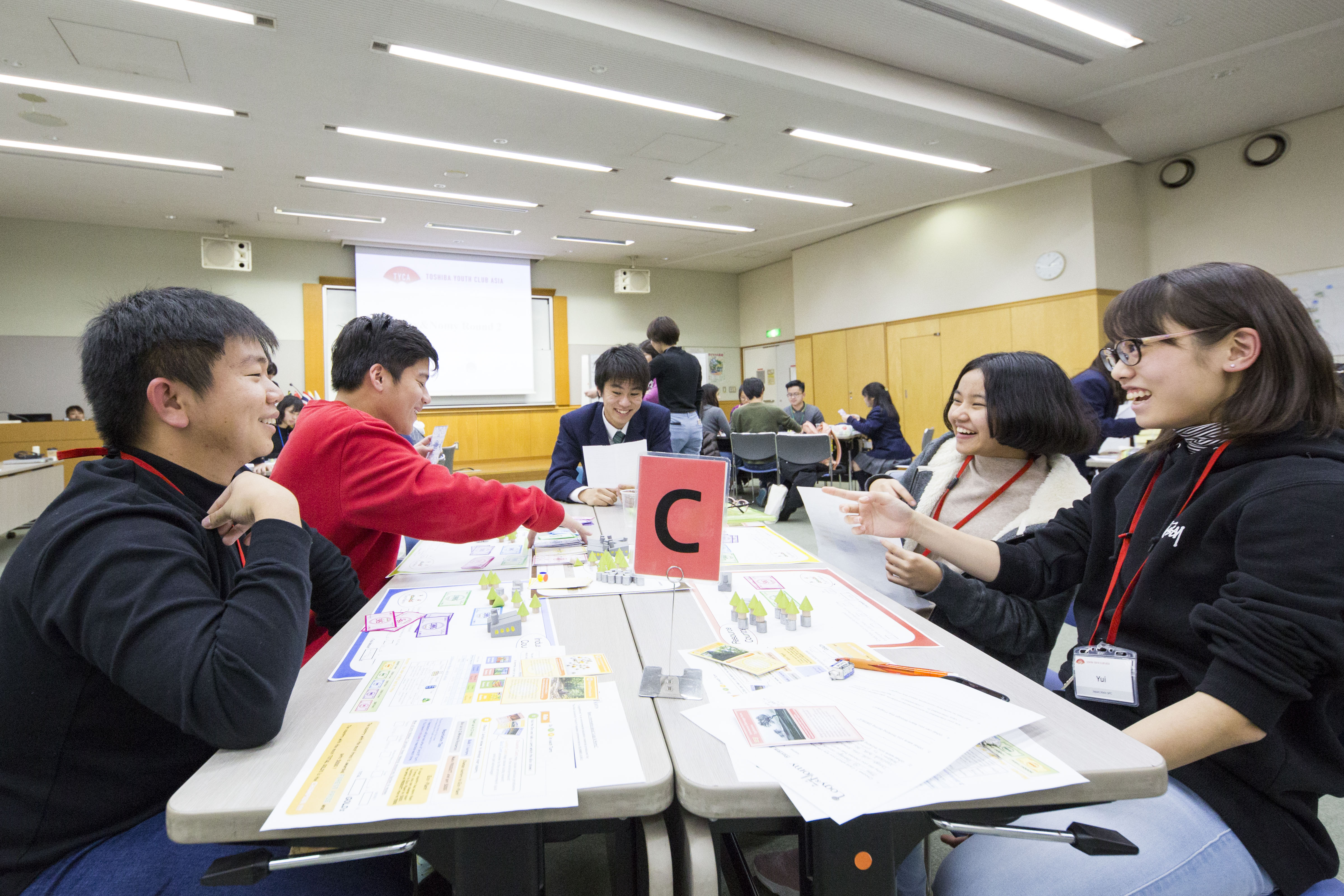 Logy & Nomy
As the final presentations drew ever closer, the student groups devoted day five to talking about what they had seen and heard, and on putting together ideas for their vision of Asia in 2014. Those ideas took on a more definite form on day six, as the groups organized their arguments and presentation materials. A bit of a break, and more food for thought, was provided by an afternoon visit to Meiji Jingu Shrine. In addition to its famous shrine, Meiji Jingu is home to extensive woodland, and the students learned something about how cities and nature can coexist—and must.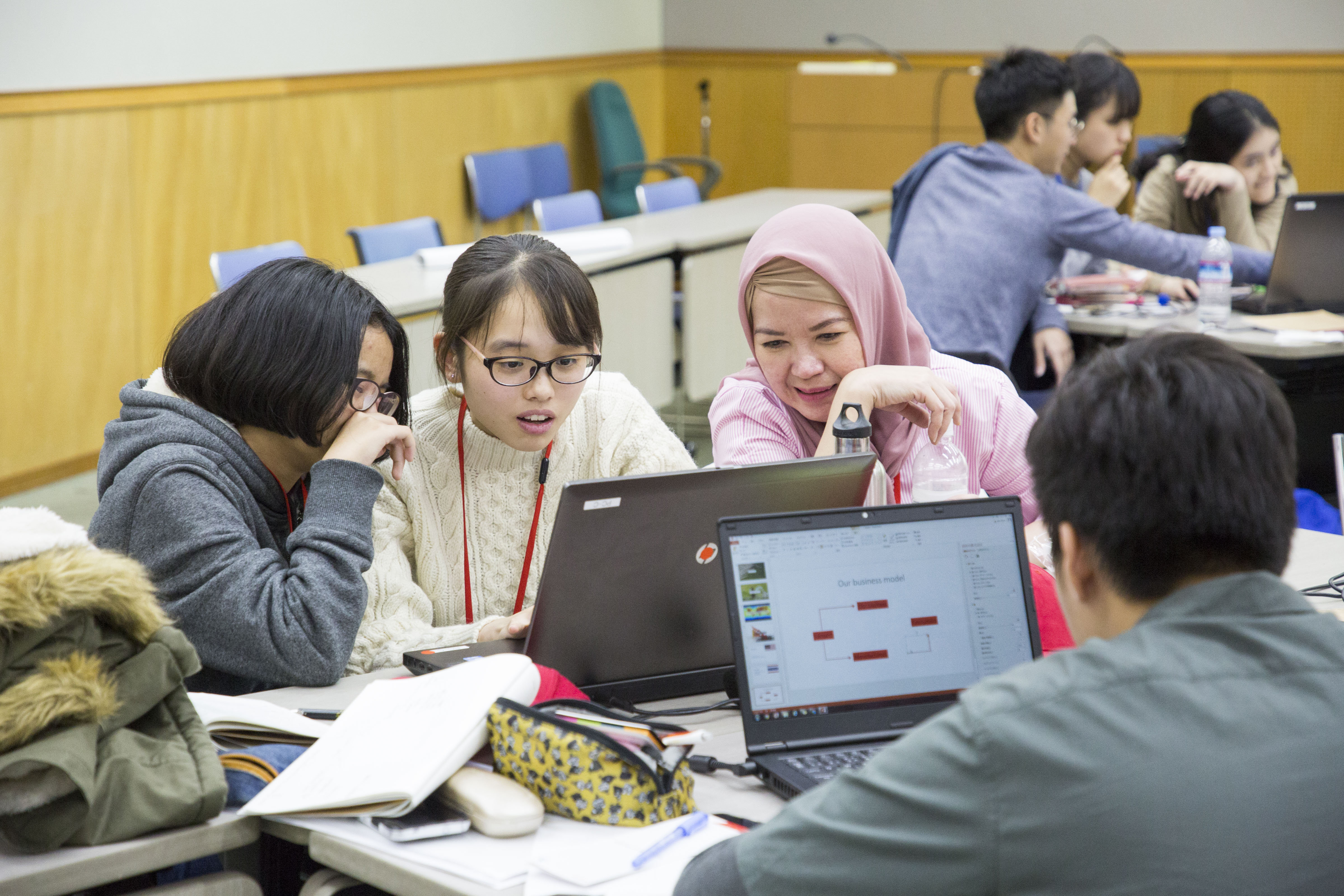 Preparing final presentations
The closing day was quite an event, with an audience that included representatives from Japan's Ministry of Foreign Affairs, the embassies of the ASEAN countries, and guests from various organizations.
Following congratulatory opening remarks by Mr. Masashi Muromachi, the Chairman of TIFO, the groups took to the stage in turn and each one gave its attention to analyzing and proposing solutions for a pretty major issue: reducing carbon dioxide emissions; cutting plastic waste; wasting less food; and providing a clean and sufficient water supply. These big issues encouraged some big ideas, and the audience was impressed by the fresh thinking of the groups.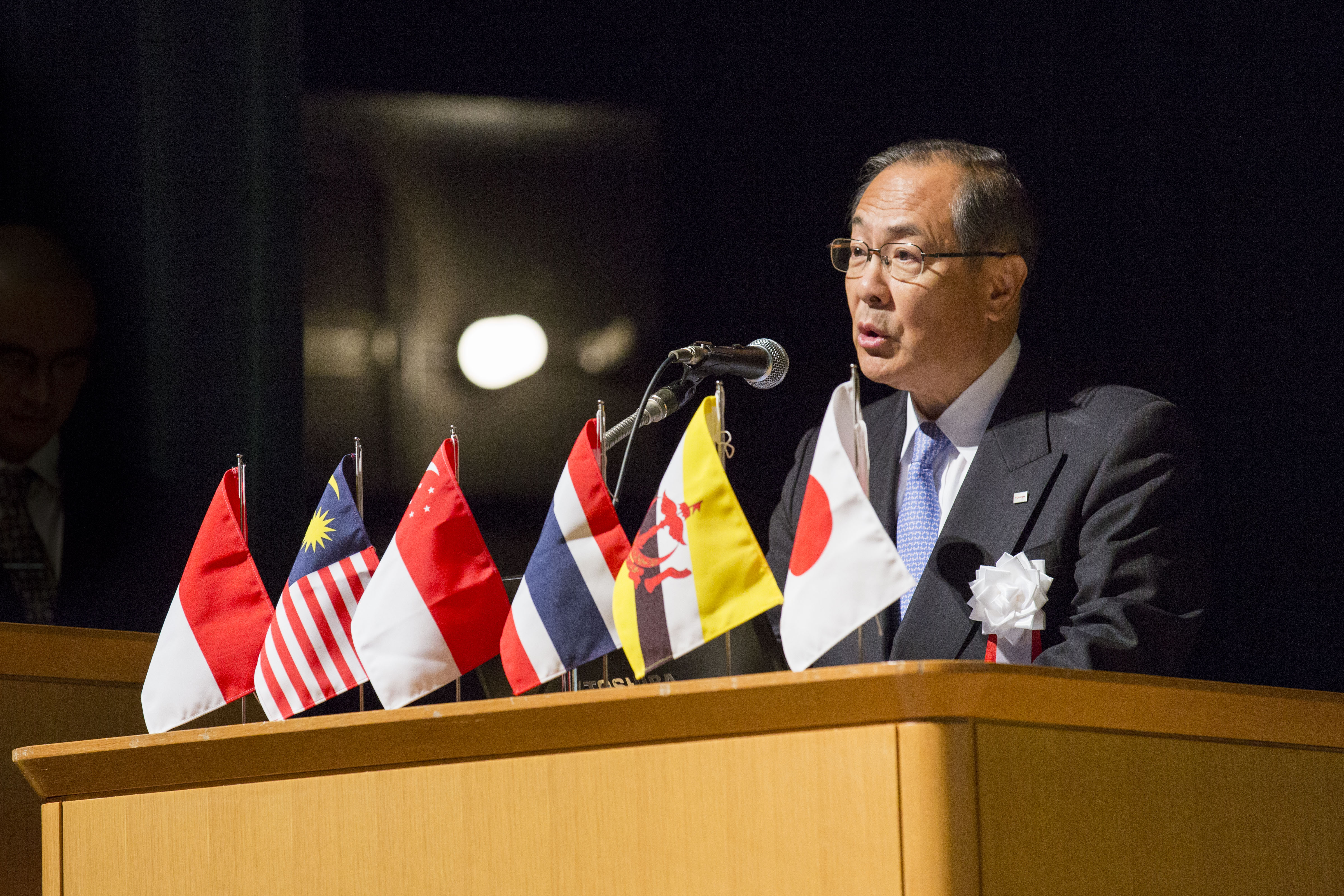 Mr. Muromachi encourages the Clubbers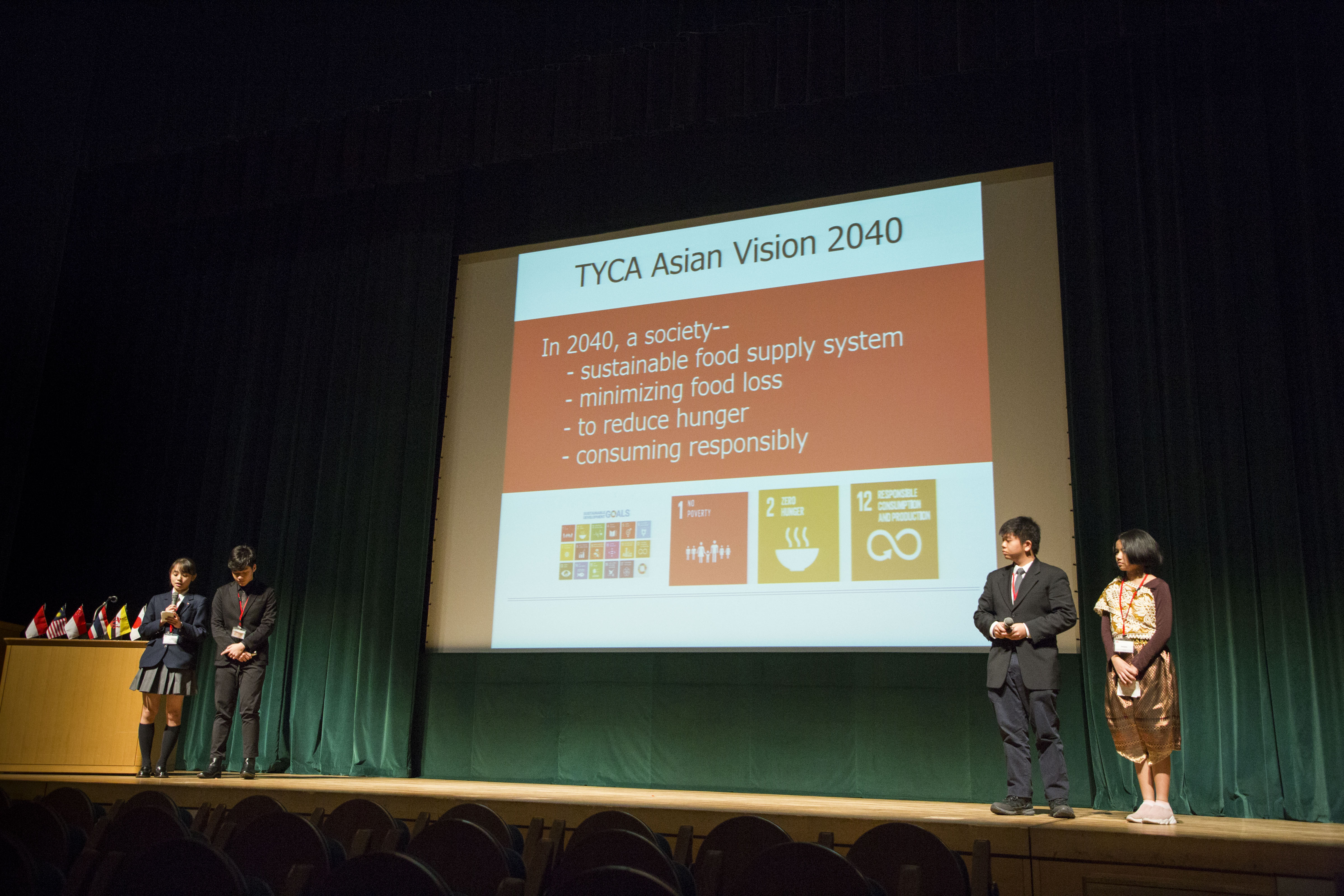 One of the groups takes the stage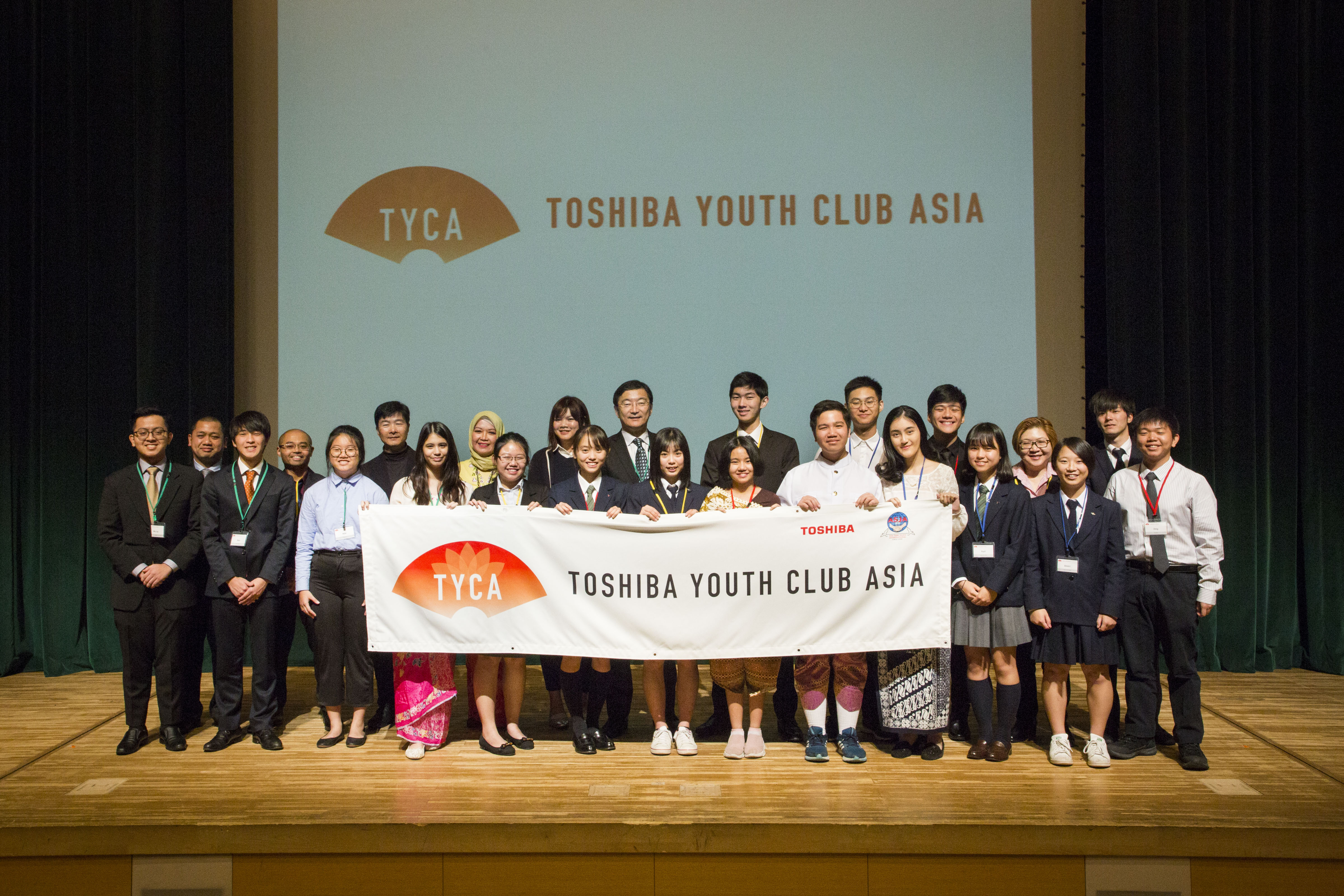 Youth Clubbers and Advisors
Some events are measured in only hours or days, but have an impact that lasts for much longer—for a lifetime even. The participants in TYCA made friends from many countries, were exposed to new ideas and ways of thinking, and were asked to stretch their thinking and come up with proposals for a better future. Let's hope that TYCA stays with them in the years to come, as they shape the future.
For further details, click here.